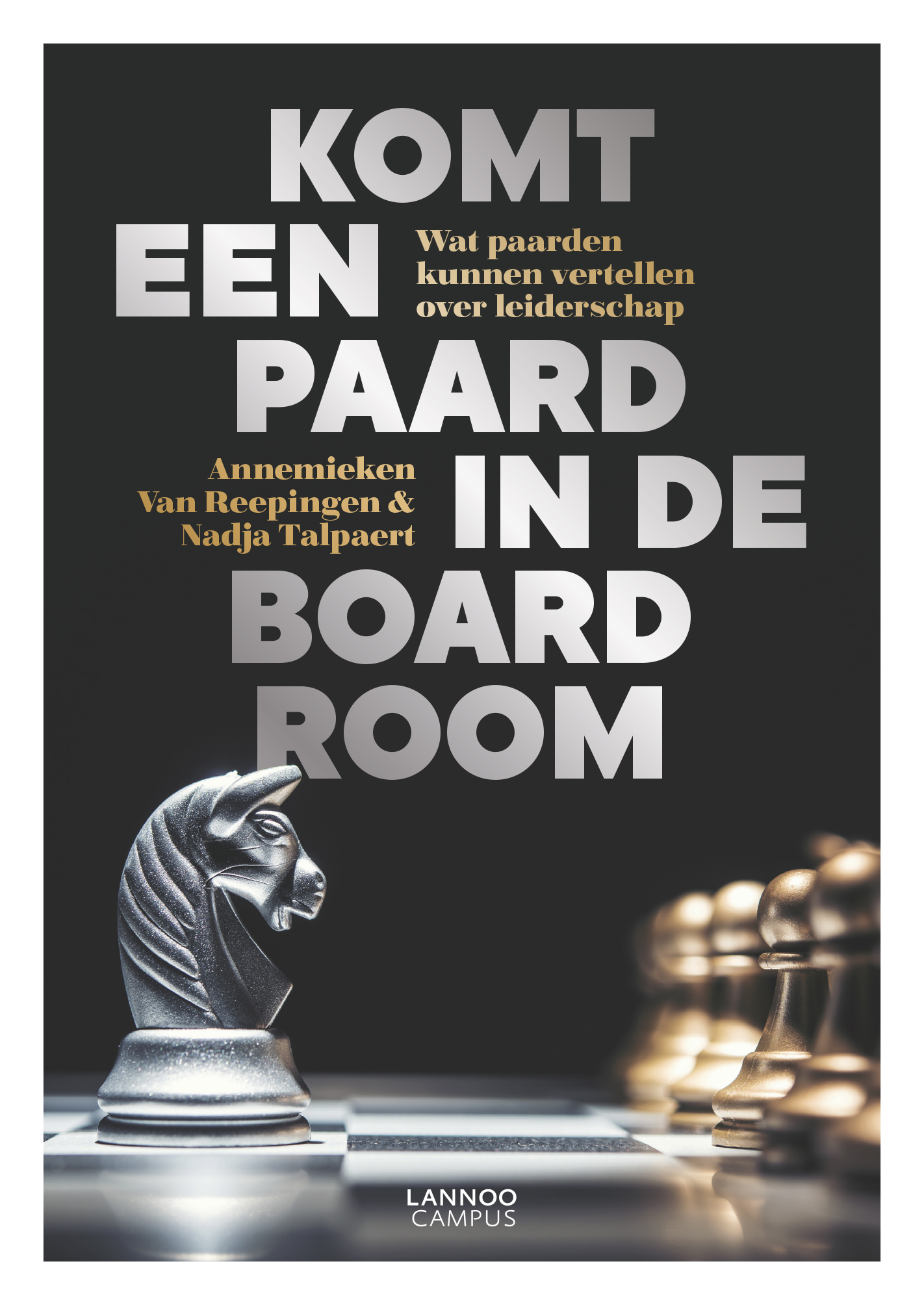 Komt een paard in de boardroom 
Apetrots zijn we! Na 2,5 jaar van nadenken, schrijven, schrappen en herschrijven, ligt ons boek er!  Wij, Nadja Talpaert en Dr. Annemieken Van Reepingen van Kivik schreven samen het boek 'Komt een paard in de boardroom – Wat paarden kunnen vertellen over leiderschap' (Lannoo Campus, 2020).
Paarden zijn experts in leiderschap. Ze overleven al miljoenen jaren langer dan wij op een succesvolle manier in teams. In dit boek delen paarden hun bijzonder krachtige formule om als leider te floreren en te groeien, zowel in je persoonlijke als je professionele leven. Aan de hand van anekdotes (of voorbeelden) van leiders uit alle sectoren vertellen de paarden hoe zij het leiderschap van mensen ervaren.
Vertalers van de boodschap
Het begon allemaal met het schrijven van een klein artikel voor de International Coaching Federation.  Toen Nadja besefte dat alles wat ze wou delen over hoe paarden leiders bijstaan in hun professionele ontwikkeling nooit in 1 artikel te vatten was, ontstond het idee om een boek te schrijven. Nadja volgde op dat moment  de opleiding 'Coaching skills through Horse Wisdom' bij Annemieken.  Het co-auteurschap ontstond spontaan.
Nadja: 'We legden onze puzzelstukjes samen en op een paar uur tijd hadden we een eerste inhoudstafel.  En al lijkt die in niets nog op het boek dat we finaal publiceren, het proces van het tot stand komen is bijzonder typerend voor de wijze waarop we ons hele boek schreven: vlot, organisch, waarderend en complementair!
Annemieken: 'Natuurlijk is er heel wat tijd en werk ingekropen, toch schreef het boek zich vanzelf, alsof we enkel de vertalers waren van de boodschap die onze paarden ons vertellen…'
Bestel hier jouw boek: Komt een paard in de boardroom. Wat paarden kunnen vertellen over leiderschap.
Dr. Annemieken Van Reepingen heeft dertig jaar ervaring binnen de gezondheidszorg op vlak van coaching, therapie, burn-out en geneeskunde. In 2009 stichtte ze het paardencoachingcentrum KIVIK. Ze vertegenwoordigt het internationaal coachingbedrijf Horse Dream in België, en is de Belgische vertegenwoordiger binnen de Association for Horse Assisted Education International (EAHAE).
Nadja Talpaert is Master Certified Coach (MCC) en Certified Transformational Presence Coach (CTPC) met ruim twintig jaar ervaring in executive leadership coaching. Begin 2012 richtte ze Notice the Difference! op, dat zich specifiek richt op leiderschapsontwikkeling, en ze specialiseerde zich in horse-assisted coaching en systemische paardencoaching.
Voor meer informatie rond onze leiderschapsprogramma's of een persoonlijke paardencoaching, klik hier.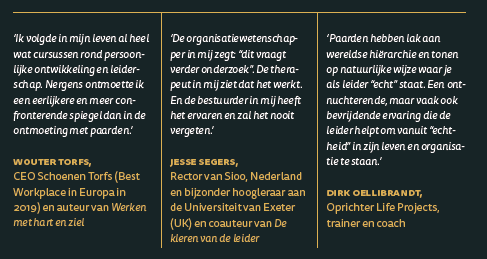 Naar aanleiding van deze lancering verschenen ook het volgende in de pers:
Interview met Annemieken Van Reepingen en Nadja Talpaert in Het Nieuwsblad, 15 juni 2020
Interview met Nadja naar aanleiding van de boeklancering voor VRT, 12 juni 2020
Interview met Nadja op Radio 2 Vlaams-Brabant, Start je dag, 12 juni 2020