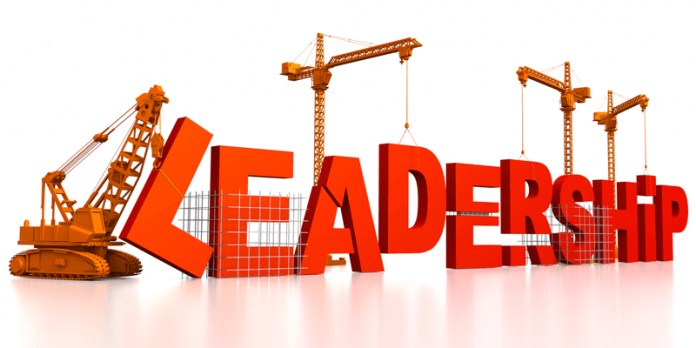 Leadership Essentials: als je écht verandering wil!
 "Meer geëngageerde medewerkers." "Vlottere communicatie in het team." "Leiderschap vanuit essentie; dit is waar het echt om gaat."  Dit is slechts een greep uit de uitspraken die we na dit opleidingstraject steevast opvangen.   Onze Leadership Essentials scoort dus werkelijk!  Anders dan in andere trainingen vertellen deelnemers ons keer op keer dat ze deze sessies niet meer vergeten. Dat deze op de huid 'plakken' en reële veranderingen bewerkstelligen op de werkvloer.
Hoe komt dat dan en waarom willen we dat graag met je delen?
Onze Leadership Essentials zijn een elkaar-versterkende-mix van 5 essentiële bouwstenen die elke leidinggevende zou moeten kennen en beheersen.  Ze maken dat een medewerker die manager wordt of één die het al is maar in een nieuwe situatie terechtkomt, onmiddellijk een vliegende start maakt.
Het zijn die àndere kijk, die inwendige shift en de eenduidige handvaten die het verschil maken tussen (relatief) snel aanvaard worden en vertrouwd worden of niet, tussen impact en invloed, of 'met de voeten rammelen'.
Als je in je eerste weken en maanden als leidinggevende 'vloekt' tegen de basisregels van samenwerking, connectie en respect voor wat voorafging, dan spendeer je daarna méér tijd om de 'schade' te herstellen en weerstand te managen dan om het team te doen draaien en toegevoegde waarde te brengen.
En wanneer het tenslotte niet vlot draait, heeft dat invloed op alle lagen er onder…  Daarom dient een leidinggevende goed geselecteerd en gevormd te worden!
Onze Leadership Essentials is een blended learning track met praktijksimulaties met acteur, interactieve workshops, tussentijdse Skype sessies, individuele coaching, buddy's, pre-reads en video's.  Zo wordt hetzelfde op 7 verschillende manieren tegelijkertijd geleerd voor een blijvend resultaat.
Kort en krachtig leren én toch diepgaand, direct toepasbaar, verankering en bestendiging in de tijd.  Geen 2 of 3-daagse, maar korte leersessies van 2, 4 en 8 uur.
We deden het al voor vele bedrijven in uiteenlopende sectoren, van technologie en R&D tot in ziekenhuizen en productie.  In functie van de noden van het bedrijf of de afdeling, passen we deze modules of het traject aan op jouw maat.
De Leadership Essentials modules bouwen op elkaar verder en zien er zo uit: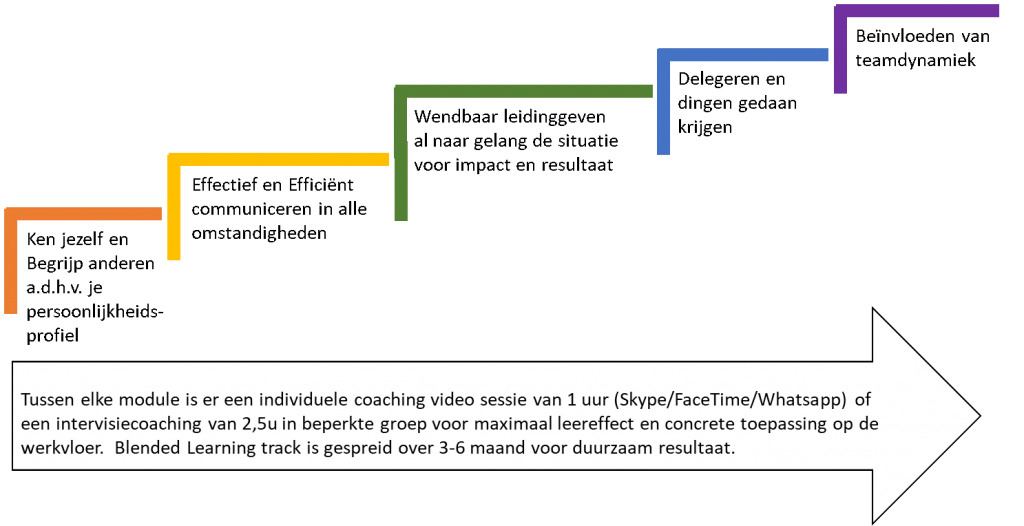 Benieuwd naar wat dit voor jouw bedrijf kan betekenen?  Je kan alvast meer lezen over onze aanpak: klik hier.
Of neem contact met ons op voor een verkennend gesprek!  We staan je graag met raad en daad bij, luisteren aandachtig naar je vraag en zoeken samen naar de beste aanpak.